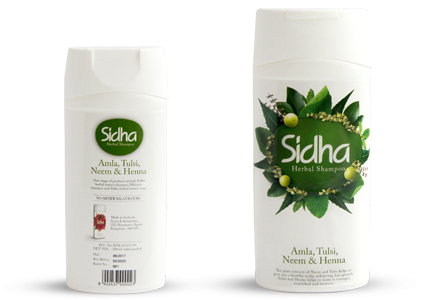 Sidha Herbal Shampoo
Sidha Herbal Shampoo, is enriched with some of nature's favorite haircare ingredients, Amla, Tulsi Neem, and Henna. Sidha shampoos are another quality product from the makers of Chandrika Soaps, and bring to you the goodness of some of the best Ayurvedic haircare recipes. Together, Amla, Tulsi, Neem, and Henna help make your hair naturally shiny and vibrant with health.
Amla, Ayurveda's Small Wonder : Amla (Indian Gooseberry) is used in Ayurveda in all forms, for a plethora of natural benefits, owing to its abundance of Vitamin C and fatty acids. Amla is known to strengthen the hair follicles, condition the hair, and nourishe the scalp, and help make your hair strong and lustrous. It is also effective against dandruff, and helps control premature greying of hair.
Neem, Nature's Versatile Tonic Neem (Margosa) has been an integral part of Ayurveda and its benefits are unmatched in the natural world. It has regenerative properties that help in reducing hairfall and preventing baldness. Neem is a natural hair conditioner that helps ensure that your scalp and hair retain moisture and look well-nourished and frizz-free.
Tulsi, Gentle Care for Your Hair Tulsi (Basil) has been a staple home remedy herb for skin- and haircare for centuries, owing to its myriad benefits. Tulsi is a great way to protect your hair against dullness, damage, and hairfall, thanks to its antioxidant properties, which help guard against cell aging and damage.
Henna, More than Meets the Eye Henna (Mehndi) is one of the best natural hair conditioners. It has soothing and antimicrobial properties, and helps promote hair growth, reduce hair fall, and keep dandruff at bay. Regular use of henna in your haircare regime helps control split ends by nourishing your hair, inside out.
By Online :

( USA Only)